Arrowfield Stud
Arrowfield Stud Overview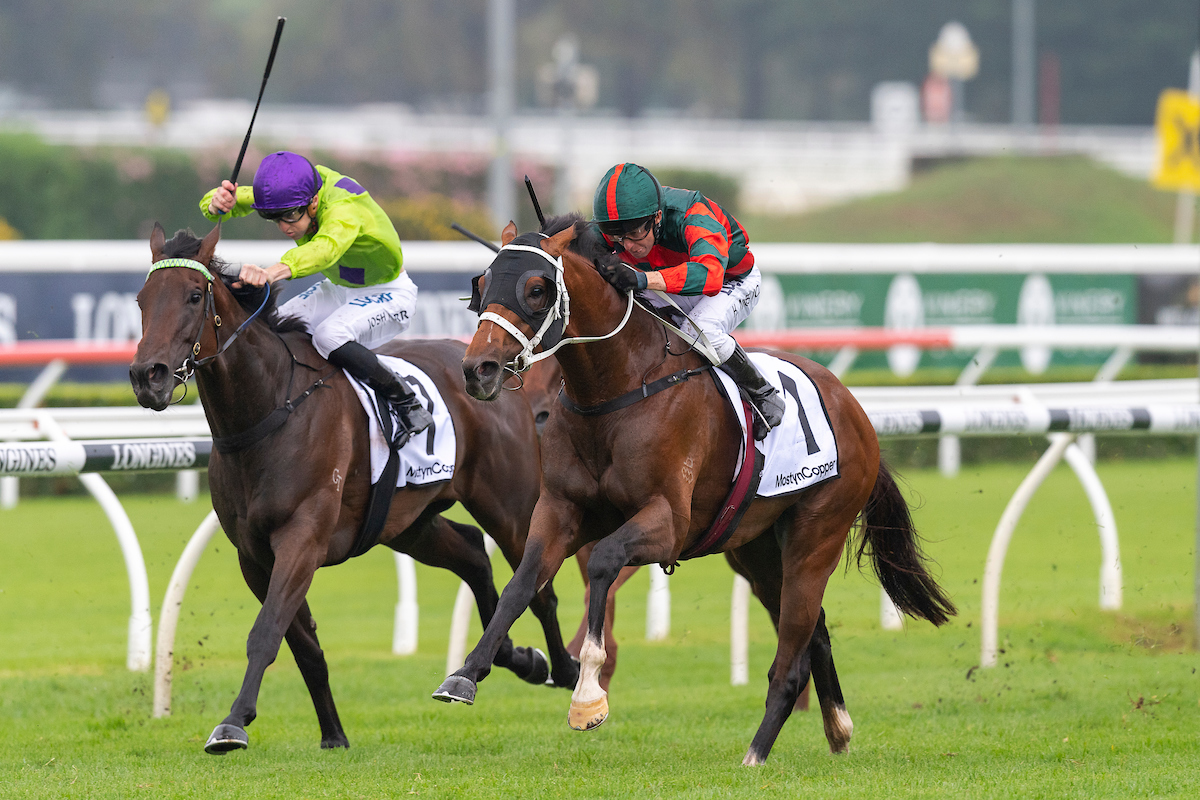 The Autumn Sun: spectacular in the Randwick Guineas G1. Pic: Bronwen Healy
In the past 12 months, three exceptional Arrowfield graduates of the 2017 Inglis Easter Sale have made the Stud's 2019 invitation to discover greatness simply irresistible.
Sensational colt The Autumn Sun, bought for $700,000, emulated his sire Redoute's Choice and champion Pierro by winning three Group 1 races in his first six starts. He then stepped past those two great colts to add an out-of-this-world fourth Group 1 victory, the Randwick Guineas, at his eighth appearance, followed a fortnight later by a hugely courageous fifth Gr1 win in the Rosehill Guineas.
The 2018 Golden Slipper G1 was won by the $1.7 million filly Estijaab (by Snitzel), who played catch-me-if-you-can with a quality field to win one of the world's most coveted juvenile trophies.
Australia Day this year brought victory in South Africa by Dundeel's Arrowfield-bred son Atyaab. Bought for $260,000, he won the Kenilworth Cape Derby G1 at his 7th start for Sheikh Hamdan.
Inglis Easter results show that the Messara family's Hunter Valley farm has sent 9 Group 1 winners to the Sale over the past five years. That's a third of all the Group 1 winners offered at the 2014-18 Easter Sales. Add the other eight Group & Listed winners Arrowfield has sold at Inglis Easter in that period, and the farm's strike rate is almost twice the figure achieved across the entire Sale.
The Stud's 52-lot 2019 Inglis Easter draft is anchored by the late three-time Champion Sire and fair dinkum legend Redoute's Choice, his sons the record-breaking Champion Sire Snitzel and super-versatile top 10 sire Not A Single Doubt, and major-sire-in-the-making Dundeel. That's top-drawer stallion power in anyone's language.
John & Paul Messara and their bloodstock team pay just as much attention to the other side of the breeding equation. That's why the dams of Arrowfield's Easter yearlings include six Group 1 winners and 11 other Group & Listed winners. Buyers will also find siblings to The Autumn Sun, Dundeel, Hong Kong star Contentment, Japanese Group 1 winner Aerolithe and a dozen other stakeswinners.
And, quite likely, their own slice of greatness.
Bloodstock Manager Jon Freyer casts his eye over Arrowfield's 2019 Inglis Easter draft to highlight eight yearlings:
Lot 38 - Deep Impact-Grito colt: Dam is a Redoute's Choice half-sister to Champion Sprinter Yell, family of Holler & Anthems. "A handsome colt with scope, he has the shoulder of a really top horse and a terrific walk."
Lot 100 – Snitzel-Lucky Raquie filly: Stakes-winning dam is from the family of Redoute's Choice and Shoals. "A medium-sized, quality filly, with a very attractive head, a great walk and real presence."
Lot 102 – Dundeel-Lunaspur colt: Half-brother to GW & producer Colorado Claire from the family of Group 1 winners Soqrat & Lucky Bubbles. "Big, powerful colt with plenty of bone, scope and excellent natural muscle. All over a Guineas/ Derby colt."
Lot 169 - Not A Single Doubt – Panorama Ridge colt: Half-brother to SW Sassy 'N' Smart & grandson of French Group 1 winner Nebraska Tornado. "He's stunning, neatly made, very powerful and early-looking. A real Breeders' Plate type."
Lot 315 - Redoute's Choice-Traceability colt: Three-quarter brother to G1 winner Master Of Design & SW Traces from the Princess Tracy family. "A beautifully balanced, medium-sized quality colt. Very good mover with a lovely front and a big hindquarter."
Lot 320 – Dundeel-Tuusula filly: From a daughter of Champion & G1 producer Miss Finland. "Classy, imposing filly with a magnificent walk who really uses herself beautifully, a definite Oaks filly."
Lot 338 – Snitzel-You're So Good filly: Dam is a G1-placed stakeswinner, family of G1 Melito and dual Group winner Pariah. "Glorious, big strong filly. Similar type to Estijaab, great presence and an impressive powerful walk"
Lot 369 - Not A Single Doubt-Azmiyna colt: Three-quarter brother to The Autumn Sun from the family of European Champion Azamour. "Medium-sized colt with an appealing head and eye, a good shoulder and an easy walk."
| Lot | Col | Sex | Sire | Dam | Vendor |
| --- | --- | --- | --- | --- | --- |
| 6 | B. | C | Redoute's Choice | Fenway | Arrowfield Stud, Scone |
| 7 | B. | F | Snitzel | Fictional Account (IRE) | Arrowfield Stud, Scone |
| 35 | B. or Br. | C | Medaglia d'Oro (USA) | Grand Daughter | Arrowfield Stud, Scone |
| 37 | Br. | F | Redoute's Choice | Grisi | Arrowfield Stud, Scone |
| 38 | B. | C | Deep Impact (JPN) | Grito | Arrowfield Stud, Scone |
| 40 | B. | F | More Than Ready (USA) | Happy Valentine (SAF) | Arrowfield Stud, Scone |
| 56 | Ch. | C | Snitzel | In the Fast Lane (SAF) | Arrowfield Stud, Scone |
| 58 | B. | C | Snitzel | Insinuating (USA) | Arrowfield Stud, Scone |
| 67 | B. | F | Dundeel (NZ) | Jemison | Arrowfield Stud, Scone |
| 72 | Ch. | F | Olympic Glory (IRE) | Just Dancing | Arrowfield Stud, Scone |
| 75 | B. | F | Snitzel | Keratiya (FR) | Arrowfield Stud, Scone |
| 80 | B. or Br. | C | Lord Kanaloa (JPN) | La Velata (JPN) | Arrowfield Stud, Scone |
| 82 | B. | F | Dundeel (NZ) | Lady Moura | Arrowfield Stud, Scone |
| 83 | B. | C | Olympic Glory (IRE) | Lady Zabelia (NZ) | Arrowfield Stud, Scone |
| 85 | B. | C | Not a Single Doubt | Lahana | Arrowfield Stud, Scone |
| 100 | Br. | F | Snitzel | Lucky Raquie | Arrowfield Stud, Scone |
| 102 | B. | C | Dundeel (NZ) | Lunaspur | Arrowfield Stud, Scone |
| 107 | B. | C | Harbinger (GB) | Magistra (JPN) | Arrowfield Stud, Scone |
| 128 | B. | C | Not a Single Doubt | Miss Sharapova (NZ) | Arrowfield Stud, Scone |
| 140 | B. | F | Redoute's Choice | Mount Zero | Arrowfield Stud, Scone |
| 169 | B. | C | Not a Single Doubt | Panorama Ridge (USA) | Arrowfield Stud, Scone |
| 181 | Gr. | F | Dundeel (NZ) | Platinum Passion | Arrowfield Stud, Scone |
| 182 | B. | F | Snitzel | Platinum Witness | Arrowfield Stud, Scone |
| 192 | B. | F | Dundeel (NZ) | Pretty Pins (NZ) | Arrowfield Stud, Scone |
| 206 | B. | C | Dundeel (NZ) | Quiet Maggy (USA) | Arrowfield Stud, Scone |
| 229 | B. | F | Not a Single Doubt | Rose of Kentucky | Arrowfield Stud, Scone |
| 232 | B. | C | Not a Single Doubt | Royal Snippets | Arrowfield Stud, Scone |
| 237 | B. or Br. | C | Redoute's Choice | Saavoya (NZ) | Arrowfield Stud, Scone |
| 241 | Br. | C | Redoute's Choice | Sananda (IRE) | Arrowfield Stud, Scone |
| 256 | B. | F | Dundeel (NZ) | Sharnee Rose | Arrowfield Stud, Scone |
| 264 | B. | C | Tavistock (NZ) | Shutout | Arrowfield Stud, Scone |
| 284 | Br. | C | Redoute's Choice | Star Fashion | Arrowfield Stud, Scone |
| 286 | B. | C | Redoute's Choice | Stareel (NZ) | Arrowfield Stud, Scone |
| 299 | Ch. | C | Not a Single Doubt | Tango | Arrowfield Stud, Scone |
| 301 | B. | F | Snitzel | Tara From the Cape (USA) | Arrowfield Stud, Scone |
| 307 | B. or Br. | C | Medaglia d'Oro (USA) | The Broken Shore | Arrowfield Stud, Scone |
| 313 | B. | C | Redoute's Choice | Top Cuban | Arrowfield Stud, Scone |
| 315 | Br. | C | Redoute's Choice | Traceability | Arrowfield Stud, Scone |
| 317 | B. | F | Snitzel | Travessia (JPN) | Arrowfield Stud, Scone |
| 320 | B. | F | Dundeel (NZ) | Tuusula | Arrowfield Stud, Scone |
| 327 | B. | C | Not a Single Doubt | Vishneva | Arrowfield Stud, Scone |
| 338 | B. | F | Snitzel | You're So Good (NZ) | Arrowfield Stud, Scone |
| 346 | Ch. | C | Not a Single Doubt | Zillow | Arrowfield Stud, Scone |
| 351 | B. | F | Redoute's Choice | African Piano (JPN) | Arrowfield Stud, Scone |
| 364 | Br. | C | Deep Impact (JPN) | Aspen Summit | Arrowfield Stud, Scone |
| 366 | Br. | C | Redoute's Choice | Asterix (JPN) | Arrowfield Stud, Scone |
| 369 | B. | C | Not a Single Doubt | Azmiyna (IRE) | Arrowfield Stud, Scone |
| 373 | B. or Br. | F | Redoute's Choice | Bariloche (JPN) | Arrowfield Stud, Scone |
| 375 | B. | F | Dundeel (NZ) | Belle Giselle | Arrowfield Stud, Scone |
| 386 | B. | F | Not a Single Doubt | Brazilian Pulse (NZ) | Arrowfield Stud, Scone |
| 387 | B. or Br. | C | Deep Impact (JPN) | Bring Me the Maid | Arrowfield Stud, Scone |
| 402 | B. | F | Dundeel (NZ) | Charming Estelle | Arrowfield Stud, Scone |
| 408 | B. | F | Not a Single Doubt | Colorado Claire | Arrowfield Stud, Scone |
| 422 | B. | F | Dundeel (NZ) | Defender | Arrowfield Stud, Scone |
| 424 | B. or Br. | F | Snitzel | Desert Fight (CHI) | Arrowfield Stud, Scone |