So Much More Than A Sale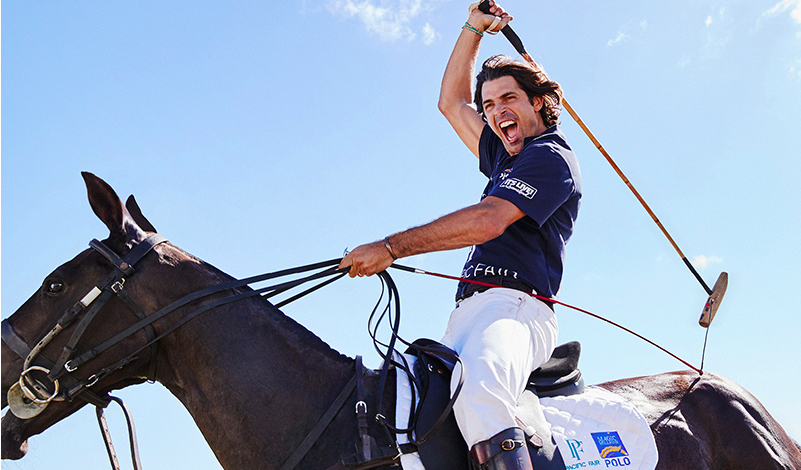 Leading polo player Nacho Figueras (pic: magicmillions.com.au)
While, of course, the Magic Millions Gold Coast Yearling Sale is obviously about yearlings it's about much more than that. Gerry Harvey and Katie Page-Harvey, with the assistance of their executive team headed by Barry Bowditch, and before him Vin Cox and David Chester, have fashioned what was once a sale into a global event awash with glamour and glitz.
Scheduled to run from 4 January to 15 January, inclusive, there are 17 days of festivities and activities at a time of year where the Gold Coast is at its sparkling best. In chronological order, the key dates are:
4 – 15 Jan: Gold Coast Yearling Inspections. From Friday 4th January from 8am to 5pm, Magic Millions Sales Complex is open for inspections of the cataloged lots in the 2019 Magic Millions Gold Coast Yearling Sale. Inspection days are a free event and the public are more than welcome to come along to the Bundall complex and get a first hand look into the world of thoroughbred sales and racing.
4 Jan: BMD Northcliffe SLSC Sportsman's Luncheon. This fun and entertaining afternoon features a variety of special guests, plus a fresh seafood buffet and beverage package.
6 Jan: Pacific Fair Magic Millions Polo. Experience more glamour, more entertainment and more magic in 2019 at the Pacific Fair Magic Millions Polo where players include a combination of international and Australian stars, celebrities and jockeys.
7 Jan: Women In Racing Inc Australia Luncheon. Women In Racing Inc. Australia is pleased to present Magic on the Coast. Enjoy the 2019 Magic Millions Women In Racing Inc Luncheon at the spectacular Horizons Restaurant, Sheraton Mirage Resort & Spa. Proceeds from the luncheon are proudly donated to the Griffith University Racing Equine Influenza Research program. Includes a 3 course luncheon and beverage package.
8 Jan: The Star Gold Coast Magic Millions Barrier Draw. The Star Gold Coast Magic Millions Barrier Draw takes centre stage on the Surfers Paradise foreshore from 6am. The foreshore will be a hive of activity with food and beverage options available to purchase from the breakfast market. At approximately 8am, all eyes will turn towards the ocean for the spectacle of several thoroughbreds with champion jockeys on board gallop down the pristine sands of Queensland's most iconic beach, Surfers Paradise. The connections of every runner in the 2019 $2 million The Star Gold Coast Magic Millions 2YO Classic field will arrive in style before randomly choosing the barrier from which their horse will start on Raceday, Saturday 12th January. The barrier draw for the $2 million Gold Coast Magic Millions Guineas will be drawn shortly afterwards at approximately 8:45am.
8 Jan: 2019 Carbine Club Luncheon. The Carbine Club of Queensland will again host Queensland's biggest Racing Lunch with the celebration of the 2019 The Star Gold Coast Magic Millions Carnival on Tuesday 8 January at The Star-Gold Coast. The very special guest is the history-making 2015 Melbourne Cup winning jockey Michelle Payne, a winner of major local and international awards. Special guests include James McDonald and his partner Katelyn Mallyon who will provide a real insight in to their racing lives over the past few years.
8 Jan: Magic Millions Launch Party. This exclusive event is the official opening for the 2019 The Star Gold Coast Magic Millions Carnival for buyers, sellers, racing identities and thoroughbred industry associates. Guests will gather in the stylish VIP Marquee set up on the Surfers Paradise Foreshore solely for Magic Millions and celebrate the beginning of Magic Millions Gold Coast Yearling Sales week.
9-15 Jan: Magic Millions Gold Coast Yearling Sale. Record support from breeders across Australasia has led to Magic Millions cataloguing a record number of lots in a star studded catalogue for the 2019 Gold Coast Yearling Sale. A mouth watering line up of 1,122 lots have been confirmed by vendors for the first five days of the auction including a record 888 lots to be offered across Book 1 of the sale from Wednesday 9 January.
9 Jan: Magic Millions Sparkling Ladies & Gents Luncheon. Held at the Surfers Paradise Marriot Resort & Spa, this premier luncheon is infused with an atmosphere of glamour, style, high society and fashion featuring a stunning Marina Mirage designer showcase, international entertainment and over $5,000 prizes for Best Dressed Magic Millions Lady, Best Headpiece and Best Dressed Gentleman. You will enjoy arrival cocktails & canapes, followed by a two-course lavish luncheon experience, bubbles, premium wines and world class entertainment. Followed by the after party in C&V with DJ and happy hour drinks…
10 Jan: GCTC 2YO Calcutta Dinner. The Magic Millions 2YO Calcutta event grows in stature and prize pool every year. In 2019 we will officially launch and showcase the brand new air-conditioned Betting Auditorium where racing identities Tony Clements, Gerard Daffy, Gerard Middleton, Glenn Munsie and Bernadette Cooper will team up and take centre stage to provide insights into the runners of the prestigious $2 million The Star Gold Coast Magic Millions 2YO Classic. Then the Calcutta begins with our expert Auctioneers and Bid Spotters from Magic Millions driving the hype and exhilaration to get the bids to reach pinnacle $$$ for each horse. Come and enjoy in a relaxed setting and enjoy a tasting of the 'Five Kitchens' and 3.5 hours of beverages.
11 Jan: Magic Millions Hats & High Tea Party. This very exclusive soiree is a highlight of the annual The Star Gold Coast Magic Millions Carnival and will be a sophisticated morning of elegance with a special touch of glamour and High Tea stunning temptations. This special event is being held at the world's first Versace Hotel, Palazzo Versace. With limited tickets available, this premier event will sell out quickly, so guests are invited to book early. Given the divine event style, this is an open seating event other than table bookings of 10.
12 Jan: $10 million The Star Gold Coast Magic Millions Raceday. The 2019 The Star Gold Coast Magic Millions Raceday is home to the world renowned $10 million Raceday, including the $2 million The Star Gold Coast Magic Millions 2YO Classic and the $2 million Gold Coast Magic Millions 3YO Guineas exclusively for Magic Millions graduates. Featuring nine fast-paced races at the picturesque Gold Coast Turf Club, the Magic Millions Racing Women's $500,000 Bonus and Harrolds Fashions on the Field, this Raceday has cemented its reputation on the international racing scene as the must attend event for racing's elite, punters, and fashionistas alike.
14 Jan: Widden Stud Magic Millions Golf Day. One of the favourite pastimes of the racing industry is a relaxing game of golf, therefore, what better way is there to relax after a busy week of fast-paced auctions and racing. The Widden Stud Golf Day provides Magic Millions vendors and buyers, trainers, jockeys and industry associates the perfect opportunity to unwind for a day at the RACV Royal Pines Golf Course before heading their separate ways. Held at the RACV Royal Pines, Benowa,The day is open for anyone to join with any singles placed into teams of four to play Ambrose style. For more information, contact Laura from Widden Stud.
15 Jan: Gold Coast Racehorse Summer Sale. Following Book 3 of the Gold Coast Yearling Sale.