Outcross Freshmen In The Ascendancy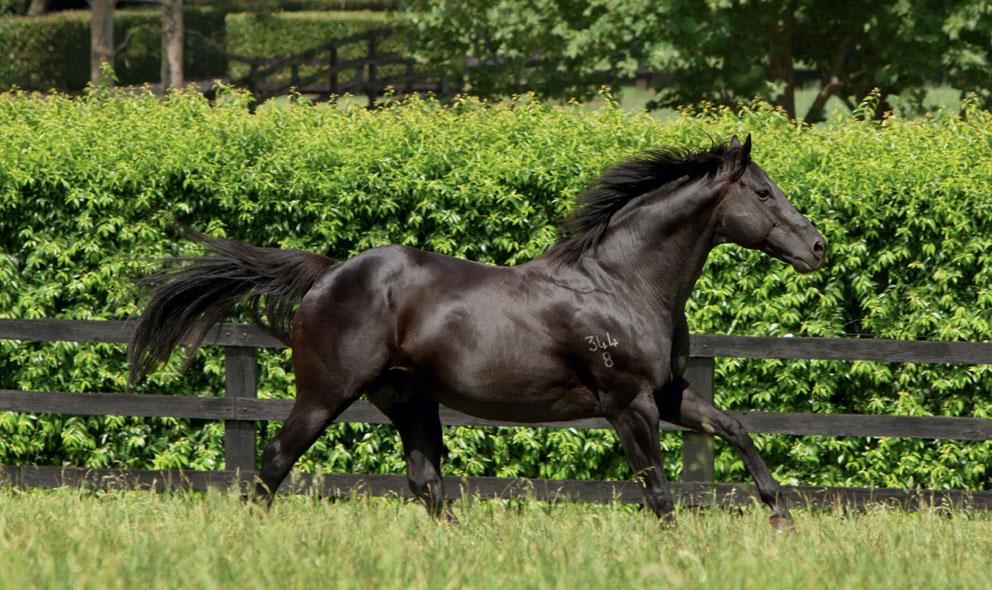 Lonhro has two new sons heading to stud (pic: darley.com.au)
The tides, and times, are changing, writes Renée Geelen. Only six of the twenty-five first-season sires announced to date in 2019 for Australia are from the Danehill sire-line, and only one quarter of New Zealand debut sires has the fabled Danehill sire-line.
With so many broodmares carrying Danehill blood, it makes sense that stud masters are throwing the net wide to find the next horse who will cross with all those Danehill mares and be the next big success. However, it might be early days for a shift away from Danehill as this fascinating swing for change isn't reflected in the current sire tables. Snitzel is currently on top and fellow Danehill line stallions, Fastnet Rock, Not a Single Doubt, and Redoute's Choice are all in the top seven. Danehill is still the king for now, and this domination is shown by Snitzel who will have four sons retire to stud in 2019, led by Champion 3YO Colt and four-time Gr1 winner Trapeze Artist standing at Widden for $88,000. The other Snitzel sons are Arrowfield's Showtime, Lynward Park's Bondi, Grenville Stud's Stratosphere, and Rivercrest Park Stud's Ducimus.
Five-time Gr1 winner The Autumn Sun dominated his opponents and he will stand at the home of his late sire Redoute's Choice, Arrowfield Stud for $77,000. In New Zealand, Waikato Stud will stand Ardrossan (Redoute's Choice), while Aquis will stand Siege of Quebec (Fastnet Rock) in Victoria to round out the Danehill line horses.
Scat Daddy will have three sons at stud in 2019, led by Coolmore's unbeaten USA Triple Crown winner Justify, who carries no Danehill, but does carry many lines that have been proven to go well with Danehill, making him an obvious choice for high end broodmares with those bloodlines. Coolmore will also stand Gr1 Breeders Cup Juvenile Turf winner Mendelssohn while Swettenham have Irish Gr1 Curragh Stakes winner Sioux Nation.
From here the spread of sire-lines on offer shows the scatter gun approach many studs are taking in the hunt for the next big name. Lonhro is currently in the top ten of the Champion Sires chart, as is his son Pierro, and he has two sons in the first-season sire list. Gr1 Randwick Guineas winner Kementari will stand at Darley, while group winning 2YO and 3YO Encryption will stand at Eureka Stud in Queensland and his fee will be announced after he runs in the Gr1 Stradbroke Handicap.
Japanese Champion Sire Deep Impact is the only other sire with two sons retiring in 2019. Dual Gr1 winner, including the English Two Thousand Guineas, Saxon Warrior will stand at Coolmore, while Arrowfield Stud will stand the tough Gr1 winner Real Steel. In New Zealand, Novara Park will stand Deep Impact's group winning son Staphanos.
Outside of Danehill, Scat Daddy, Lonhro, and Deep Impact, there are thirteen different sires on offer for breeders in Australia and New Zealand. Local Gr1 winning 2YOs have a sensational record at stud, and Widden Stud will stand Blue Diamond winner Written By (Written Tycoon). Gr1 Champagne Stakes winner Prized Icon (More Than Ready) went on at three to win the Gr1 VRC Derby, and he will stand at Kooringal Stud in NSW.
Dual Gr1 winner Grunt (O'Reilly) will stand at Yulong Investments, while Gr1 winner Jungle Cat (Iffraaj) stands his first season in Queensland with Telemon Thoroughbreds.
Gr1 winners Embellish (Savabeel) and Roaring Lion (Kitten's Joy) will stand at New Zealand's Cambridge Stud. American Gr1-winning juvenile Bolt d'Oro will stand at Spendthrift in Victoria, and his sire Medaglia d'Oro showed an affinity with Australia via Golden Slipper winner Vancouver. Danehill won the Gr1 Haydock Sprint, and so did Harry Angel (Dark Angel) who will stand at Darley Stud in 2019. Dark Angel is a son of Acclamation, and so is Aquis Farm's Gr1 Prix de la Foret winner Aclaim. Aquis will also stand dual Gr1 winning sprinter Brave Smash (Tosen Phantom), as well as Lean Mean Machine (Zoustar), Santos (I Am Invincible) and Performer (Exceed And Excel). Sun Stud are throwing their chances behind the I Am Invincible train with Gr1 winning 2YO and French Champion 2YO Colt, National Defense (Invincible Spirit) who shares the same sire as the emerging super stallion.