Sefton Park (NSW)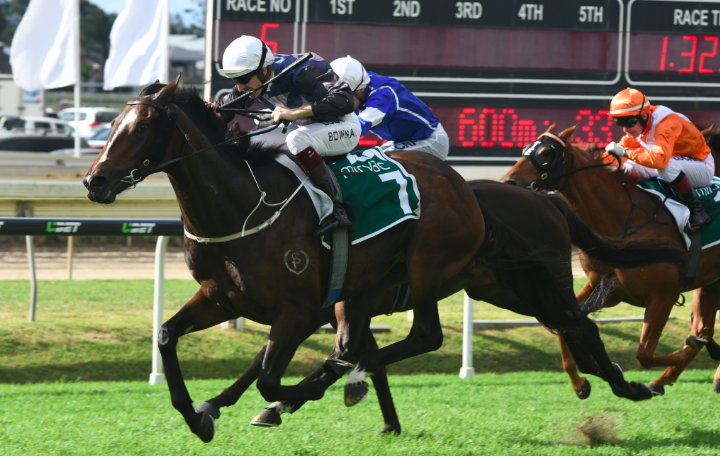 Gr2 Queensland Guineas winner Salsonic (pic: Steve Hart)
Located in the horse capital of Australia on the New England Highway, only five kilometres south of Scone, Sefton Park Stud is close to all the major Hunter Valley horse studs and has the Scone Equine Intensive Care Unit on their doorstep. Sefton Park offers your Thoroughbred first class care.
Proprietor Colleen Buchanan has a certificate in Equine Nursing and was the Most Outstanding Student when graduating in 2001. This created a basis of knowledge that has grown with experience, and now Sefton Park Stud benefits from the wealth of experience that only time and practice can afford.
Sefton Park Stud cater for long term agistment for broodmares, and all the associated services, as well as temporary spring lodging for broodmares visiting Hunter Valley stallions. Sefton Park Stud has excellent spelling paddocks for your racehorse, and have the veterinary nursing experience to help horses with injury rehabilitation.
Sales graduate Gr2 Queensland Guineas winner Salsonic (recently third in the 2019 Gr3 Liverpool City Cup) speaks to the results clients can hope for when sending a weanling or yearling to Sefton Park Stud for sale preparation. Sefton Park Stud offer sales preparation for all weanling, yearling, racing stock, and breeding stock sales, and their active facebook page is filled with photos of beautifully prepared horses in top condition.
Consisting of Scone's typical chocolate basalt highly fertile land, Sefton Park Stud has all the hallmarks of being on good horse country. When combined with their staff's experience, this is a property that should tick all the boxes for Thoroughbred owners looking for an agistment property for their precious Thoroughbreds, be they broodmares, young stock, or spelling racehorses.