Daily News Archive
Daily News Subscription
2019 Daily News Sires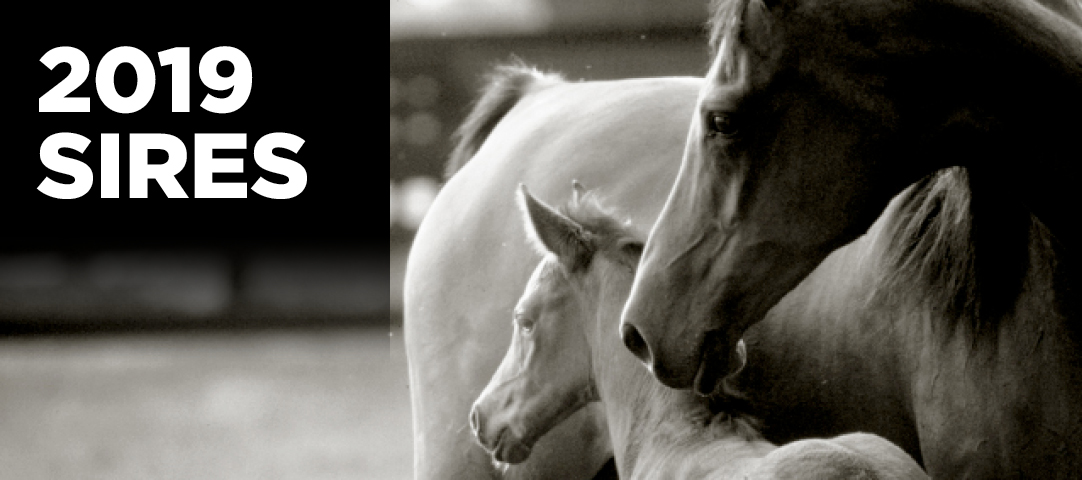 Last 7 days
Yulong Special Feature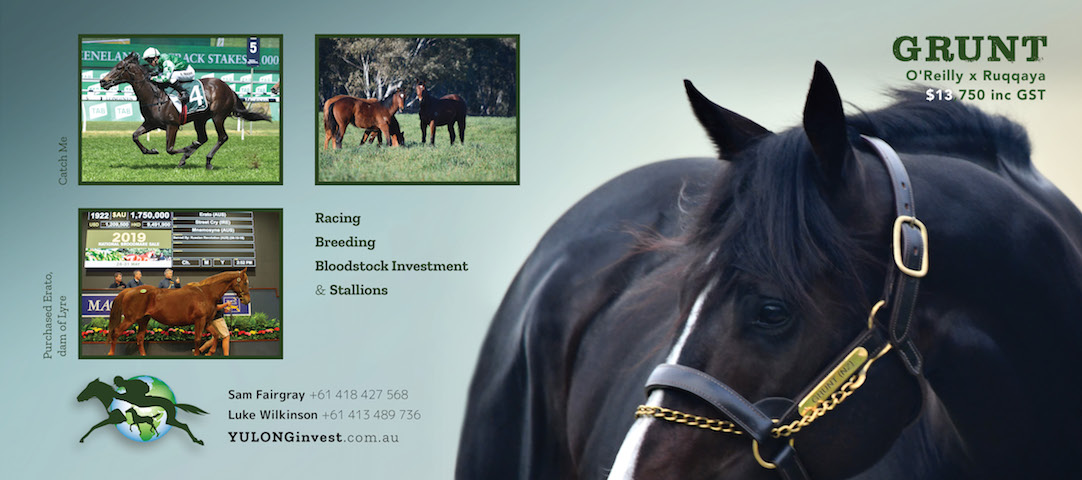 Daily News | 20th February 2020
NEW

Top 10 All-Star Mile Votes Released

Thursday, 20th February 2020

It's official! Following last Sunday night's All-Star Mile voting closure (blacked out for the preceding 50 hours), the ten horses most voted for by the racing public on both sides of the Tasman are now known. They include (in order of votes cast): Alligator Blood, Melody Belle, Kolding, Star Missile, Dalasan, Catalyst, Mr Quickie, Aristia, Heart of Puissance and Super Seth. The four emergencies are: Gold Fields, Begood Toya Mother, Black Heart Bart and Galaxy Raider. The final positions (minimum three wildcards) will be announced on 2 March, however before then there are two opportunities for runners to qualify to make up the field of fifteen; both Saturday's Futurity Stakes and forthcoming Blamey Stakes carry win-and-you're-in conditions. Should the winner of either or both those events come from the already qualified top ten contenders (above), then there will be another one or two wildcard qualifiers from those races at the discretion of a committee comprising officials from Racing Victoria and the Melbourne Racing Club.

Alligator Blood will carry the hopes of Queensland (pic: Steve Hart)

NEW

HKJC Chief Eyes Japan for Global Betting Pools

Thursday, 20th February 2020

On Wednesday in Cape Town, the thirty-eighth Asian Racing Conference got underway. Its chairman, Hong Kong Jockey Club chief executive Winfried Engelbrecht-Bresges had to make his opening address in-abstentia due to the ongoing health crisis in Hong Kong associated with the coronavirus now named COVID-19. Appearing via satellite for his presentation, Engelbrecht-Bresges emphasised that, in his opinion, international commingling combined with a global circuit featuring the world's best horses and jockeys, is where the future of the industry lies. Although Hong Kong, which has massive turnver, already has commingling agreements across 27 jurisdictions involving 61 partnerships, the highly respected administrator has a strong desire to see that include Japan and South Korea. "If you look at the quality of Japanese racing and its world-class horses, along with races like the Japan Cup and Arima Kinen with around US$600 million in liquidity, this would be an amazing value proposition and would definitely create another dimension in commingling," said, noting, "I believe international commingling will be key for future development of racing as a global sport and through this concept we have the chance to really harvest the potential of our international racing." Behind Engelbrecht-Bresges' thought process is a belief that a massive pool where the dividend is the same for every punter around the world would be a huge deterrent to arbitrage by illegal bookmakers. The sheer volume and scope of the liquidity would likely see less dramatic fluctuations, and provide significant confidence for the betting public.

NEW

New Rosehill Polytrack Announced

Thursday, 20th February 2020

The Australian Turf Club (ATC) and Racing NSW will jointly fund the installation of a new Polytrack surface at Rosehill Gardens to continue Sydney racing's upgrade of training facilities at all of its racecourses, reports racingnsw.com.au. The new Polytrack surface will replace the Pro-Ride surface following a lengthy consultation period with trainers at Rosehill Gardens. Installation of the new surface is due to commence in late April and be completed by late May. The latest project will mean each of Sydney's four Australian Turf Club racecourses – Royal Randwick, Rosehill Gardens, Warwick Farm and Canterbury Park – will have a Polytrack circuit. During wet weather, the Polytrack surface can also be used to conduct barrier trials if grass training and trial surfaces at each of the racecourses are affected. Australian Turf Club Chairman, Matthew McGrath, said Rosehill Gardens trainers had seen the success of Polytrack surfaces at Royal Randwick and Warwick Farm. "This project continues the strategic work in partnership with Racing NSW to continually enhance our training tracks," Mr McGrath said. "Most pleasingly, the Polytrack surfaces are another improvement in horse welfare and are being recognised as being a major factor in the reduction of horse injuries during training." Racing NSW Chairman, Russell Balding AO, said: "It is important that we continue to invest in our racing infrastructure assets and seek to have the best training facilities available. "This initiative also demonstrates what can be achieved through a close collaborative relationship between Racing NSW and the Australian Turf Club."

NEW

Luskin Park Dispersal Announced by Inglis

Thursday, 20th February 2020

Sales company Inglis has announced it will conduct a dispersal sale for one of Australia's most respected thoroughbred nurseries, Luskin Park Stud. Situated in the lower Hunter Valley, the famed Luskin Park is the birthplace of many Australian champions including Golden Slipper winner Luskin Star and, more recently, the Gr1 winners Foxwedge (pictured) and Rock Classic. The decision to sell "the entire bloodstock holdings of Luskin Park Stud'' comes following the untimely passing of stud proprietor Paul Whelan, the highly respected thoroughbred breeder and former NSW Police Minister, who died late last year. The unreserved sale ­ which consists of 30 broodmares, race mares and weanlings – will be conducted at the Inglis Australian Weanling and Broodmare Sale (May 6,7,10,11) and The Chairman's Sale (May 8). "Our family is particularly proud of the success my father had with Luskin Park Stud, but following his passing, now is the right time to sell both the breeding stock and property," Luskin Park's John Whelan said. "We've had a lot of fun racing quality mares such as Sprightly Lass, who twice defeated Santa Ana Lane at Stakes level. We'll certainly be cheering on the progeny of our mares in the years ahead. We started out with Inglis many years ago and we're thrilled they are handling this final sale for us."

Leading sprinter and sire Foxwedge (pic: Steve Hart)

NEW

Commercial Gems Among Luskin Park Dispersal

Thursday, 20th February 2020

Jonathan D'Arcy, Inglis' General Manager of Bloodstock Operations and International Developmen,t refected on what has been a long-standing relationship with Luskin Park: "Inglis is honoured to have been asked by the Whelan family to sell the bloodstock that the late Mr Whelan has spent that past 20 years developing. Paul was a great friend of the company and we had the pleasure of selling some outstanding yearlings for him and his family over many years including the G1 William Reid Stakes winner Foxwedge, for $925,000 at the Easter Sale of 2010." D'Arcy concluded, "This group of mares, racing stock and weanlings represents an outstanding opportunity for breeders and racing enthusiasts alike to buy into some very active and commercial families.'' Highlights of the Luskin Park Stud dispersal include:

Sprightly Lass – stakes-winning Snitzel mare in foal to Pierro
Twelve Pack Shelly (USA) – stakes-winner, dam of SW Kentucky Miss
Late Spring (USA) – stakes-placed, in foal to Champion 3YO of last season The Autumn Sun
She's A Wildcat – a full sister to Foxwedge and dam of unbeaten Sydney-winning 2YO Untamed
Weanling half relations to stakes-winners such as Kentucky Miss, Le Cordon Bleu and Sprightly Lass.

Tabcorp Revenue Up While Wagering Falls

Thursday, 20th February 2020

Tabcorp announced yesterday that wagering figures have continued to fall, however they have seen a surge in group revenue, reports racing.com. Tabcorp said wagering and media revenues for the first half of the 2019/20 financial year were $1,179.5 million, down 3.7% and EBITDA (earnings before tax) was $233.8m, which was down 7.8%. Tabcorp's digital wagering turnover was down 4.9%, and retail turnover declined 9%. "This was a challenging half for our Wagering & Media business," said Tabcorp managing director and chief executive David Attenborough. "TAB is competing well while also transforming in a soft market. The ex-UBET business does not yet have the broader set of products or services to win customers in a highly competitive environment. However, the integration of TAB and UBET is in its final phase and we look forward to providing the superior TAB experience to customers in Queensland, South Australia, Tasmania and the Northern Territory." Revenue was up thanks to lotteries and Keno, with revenues at $1,584.3m, up 12.4% and earnings before tax was $294.9m, up 16%. "Another excellent Lotteries & Keno result drove the Group's earnings growth, and this business continues to go from strength to strength," Attenborough said. "Lotteries' digital turnover was up almost 40% with retail up over 5%, evidence of how favourably customers and retail partners are responding to our integrated omni-channel strategy. Tabcorp's diversified group of businesses delivered a solid overall result in the first half of FY20. We grew group revenues by 4.4% in an environment of soft discretionary spending, while undertaking significant integration activity."

Lonhro Relative To Run In Meydan Gr2 Zabeel Mile

Thursday, 20th February 2020

Zakouski (Shamardal-O'Giselle, by Octagonal) will run in tonight's Gr2 Zabeel Mile at Meydan over 1600m. The 4YO gelding is having only his fourth raceday start, having won on debut at Kempton as a 2YO, then fifth in the Gr3 Craven Stakes in his only outing at three. Zakouski won his last start in early January over 1600m at Meydan in the Longines Conquest Classic Handicap, to bring his record to two wins from three starts. Zakouski's dam, O'Giselle (Octagonal-Shadea, by Straight Strike) is a full-sister to Champion Sire Lonhro, and she is the dam of two stakes-winners to date, including GB-born King's Command (Dubawi) and Australian born Albrecht (Redoute's Choice) who won the Gr3 Up & Coming Stakes and was Gr1-placed when second to Epaulette in the Golden Rose.

Racing Mates to Host Central West BBQ at Orange

Thursday, 20th February 2020

The Racing NSW initiative, Racing Mates, has invited all racing participants from the Central West Racing District to attend the next Racing Mates BBQ 'Get-together', which will be held from 12pm at the Trainers Tuckerbox tie-up stalls area at Towac Park Racecourse, Orange this Saturday 22 February. "We are looking forward to catching up with participants of the Central West at Orange this Saturday," said trainer Pat Webster, a Racing Mates ambassador. "This is a great opportunity for the racing community to come together for a chat." Racing NSW established Racing Mates in 2016 following research that found effective support offered by peers and colleagues can aid in stressful situations. Racing Mates has appointed several Ambassadors across NSW that are available as a port of call when industry participants are in need of a mate. "There is nothing better than talking to someone who understands where you're coming from," Webster, also an accredited Racing NSW drug and alcohol mentor, said. "Myself, and all of our other ambassadors, are always there to have a chat when participants need to talk to someone." Industry-specific expertise combined with accredited training ensures Ambassadors can provide a crucial link between those in need and the required support. Further info about Racing Mates and its Ambassadors can be found at www.racingmates.com.au.

Shez Sinsational Daughter To Debut Today

Thursday, 20th February 2020

Simply Wonderful (Snitzel-Shez Sinsational, by Ekraar) will make her debut today in the Pakenham RC Iron Jack Australia Lagers Maiden Plate over 1400m. The 3YO filly is the third foal of three-time Gr1 winner Shez Sinsational, whose outstanding race record finished with twelve wins from 30 starts and over $1million in earnings. Shez Sinsational has begun her broodmare career in fine fashion, with her first foal Sinarahma (Darci Brahma) winning the Listed Wairarapa Thoroughbred Breeders Stakes a couple of weeks ago, while her second foal House of Cartier (Alamosa) has won three races and was placed in the Gr1 SAJC Schweppes Oaks as a 3YO last season. Simply Wonderful sold for $300,000 at the 2018 New Zealand Bloodstock Premier Yearling Sales to Busuttin Racing, and even before she runs today, her value will have increased thanks to her newly minted stakes-winning older sister.

Sun Stud Rallies Behind Bush Fire Appeal

Thursday, 20th February 2020

Having already raised $13,200 in January with two winners by Sun Stud Bloodstock raced gallopers and 56 wins by Sun Stud-based stallions, Victoria's Sun Stud announced on Wednesday that $1,000 for every Palentino yearling sold at the 2020 Inglis Melbourne Premier Sale will also be donated to the bushfire appeal. The Melbourne Premier Sale – which will be staged at Oaklands Junction from 1-3 March – features 25 of the first crop yearlings by Sun Stud's dual Gr1 winner Palentino (Teofilo-Palatine Hill, by Palace Music). "It's incredible how the industry has rallied to support victims of those devastating bushfires and we were happy to do our bit by donating $1,000 for every Sun Bloodstock-owned winner and $200 for every winner sired by a Sun Stud stallion throughout January," Sun Stud's managing director, Danielle Cheng, points out. "However, those affected by the bushfires will need support for many months and years to come. We're hoping that the launch of the first Palentino yearlings will coincide with new beginnings for those who were hit hardest by the bushfires."

Flashy chestnut Palentino has his first yearlings at Premier (pic: Mark Gatt)

William Reid Favoured for Mystic Journey Return

Thursday, 20th February 2020

With the clock having ticked too fast for star Tasmanian mare Mystic Journey to defend her $5 million All-Star Mile title, trainer Adam Trinder has told Sky Sports Radio that the daughter of Needs Further could make her race return, and possibly only autumn start, in the Gr1 William Reid Stakes. Having now fully recovered from a soft tissue infection picked up since her last start when fifth in the Gr1 Cox Plate, Trinder seems in no rush to push Mystic Journey: "We've just taken a breath, taken a step back and she had a good gallop in company yesterday (Tuesday) morning." He added, "Whether she just has the one run for the preparation and then comes back for the spring, just so she doesn't get too heavy as a four-year-old mare, or runs in the William Reid and then potentially runs in the two 1200m weight-for-age races in Adelaide in May…"

Mystic Journey won last year's inaugural All-Star Mile (pic: Mark Gatt)

Barbaric Makes Positive Statement

Thursday, 20th February 2020

Beautifully-pedigreed 2YO colt Barbaric (I Am Invincible-Mimi Lebrock, by Show A Heart) has laid his ambitions bare with a don't argue victory at Randwick's Kensington circuit over race favourite Centimental and Joviality – both from the Chris Waller-trained yard. A $900,000 Magic Millions Gold Coast graduate owned by some of the biggest names in the industry, Barbaric is out of multiple Group-winning mare Mimi Lebrock who captured the Magic Millions 2YO Classic in her juvenile year. Beaten a tick under 4-lengths in the Gr3 Breeders Plate on debut last October, the Peter and Paul Snowden-trained youngster has been trialling well, and despite racing a little greenly in the straight was eased down by Tim Clark for a comfortable 1.8-length triumph. Barbaric holds nominations for both the Gr1 Golden Slipper and Gr1 Sires' Produce Stakes.

Blueblood Holyfield Remains Undefeated

Thursday, 20th February 2020

Meanwhile, another similarly-priced, and equally well-bred Magic Millions 2YO graduate caught the eye at Sandown in Melbourne when quality prospect Holyfield (I Am Invincible) made it two from two with a solid win in the distinctive Aquis Racing silks. After nailing his debut at Newcastle for trainers Ciaron Maher and David Eustace ahead of subsequent Inglis Millennium winner Prime Star, the $800,000 Magic Millions purchase from the 2019 Gold Coast Sale was sent south to tackle midweek metrop company, and didn't disappoint. Sold by Segenhoe Stud, the son of Gr1 Myer Classic heroine and multiple Group winner Hurtle Myrtle (also placed in the Gr1 Flight Stakes) worked hard early to secure the lead which he held comfortably turning for home. Approaching the 400m, at which point he started to come under immense pressure on both sides, Holyfield kept responding to the urgings of Jye McNeill. Despite being headed 200m out, the $3.00 favourite came again to score a close but ultimately soft win.

Holyfield as a yearling (pic: magicmillions.com.au)

Super Seth Ride Hanging on Zahra Appeal

Thursday, 20th February 2020

In a bid to ride in the Australian Guineas, jockey Mark Zahra has lodged an appeal against the severity of careless riding suspension, reports racenet.com.au. Zahra was given an eight-meeting ban for careless riding on Gr1 Lightning Stakes winner Gytrash (Lope de Vega-Miss Barley, by Fastnet Rock) in that race last Saturday and has already deferred the suspension so it will start after Saturday's Blue Diamond Stakes meeting, however, he requires a one meeting reduction to be able to ride in the Australian Guineas. Victorian Jockeys' Association boss Matt Hyland confirmed Zahra was appealing against the severity of the ban. The appeal will be held by the Victorian Racing Tribunal on Thursday. Zahra is the regular rider of Guineas-nominated Super Seth (Dundeel-Salutations, by Redoute's Choice), however it is unlikely the Gr1 winning colt will take his place in the Guineas as he will run this Saturday against the older horses in the Gr1 Futurity Stakes and probably won't back up the following week.

Lindsey Smith Adds Voice to Fatigue Concern

Thursday, 20th February 2020

Dual state trainer Lindsey Smith told racing.com's After The Last on Tuesday night that being able to house horses overnight after city meetings would be a massive benefit to regional stables that are forced to travel long distances late at night. The busy trainer has over 40 horses at his Warrnambool base, and said, "I choose to live in Warrnambool I understand that, but I think going forward... we're changing our model of how we handle all the travel. Maybe with the changing of Caulfield and Moonee Valley if they could put a little barn there maybe and we could stay there overnight, the travelling horses. I know it's a cost but it's better than someone having an accident on the way home, because that sure is going to happen one day." Smith also talked about the advantages of having stables in two states. "I've got wonderful staff on both sides, it stimulates me a little bit to be doing this (having two bases)," he said. "I can see the staff rising and getting better for it, so it's very positive and I'm quite surprised how the staff have come up with some great one-percent ideas, it's been good for everyone." In other news, Smith discussed plans to take his Gr1 winner Scales of Justice (Not a Single Doubt-Beymatilla, by Umatilla) to The Everest next spring.

Scales of Justice will target The Everest (pic: Mark Gatt)

Ascot Possible for BC Juvenile Winner Sharing

Thursday, 20th February 2020

Last season's Breeders' Cup Juvenile Fillies Turf winner Sharing (Speightstown-Shared Account, by Pleasantly Perfect) has had her 3YO debut pushed back, after initially being aimed for the Gr1 Kentucky Oaks, reports horseracingnation.com. "The schedule got too tight," trainer Graham Motion said. "I just was under pressure a little bit, and she had a little bit of soreness in her foot after the last breeze," Motion added. "I don't want to be rushing her to make this race. It's a long year." Sharing may now start in the Gr3 Appalachian Stakes on 5 April 2020, instead of the initial planned outing in the Gr3 Florida Oaks on 7 March. Motion also mentioned a trip to Royal Ascot for the Coronation Stakes is possible "depending on when we get a start" to the season. The Coronation runs on the fourth of the five-day meeting each June. Sharing has a beautiful pedigree being by Breeders Cup Sprint winner Speightstown out of Breeders' Cup Filly & Mare Turf winner Shared Account, also the dam of Listed winner Riley's Choice (Distored Humor).
Breeding&Racing Monthly Archives
2019 Freshman Yearling Sires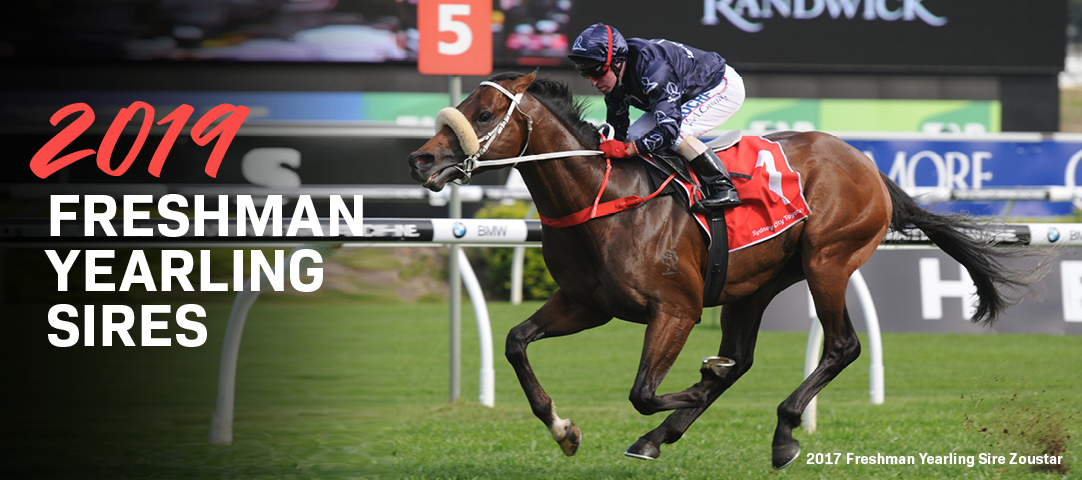 Searching For The Next Big Thing
Social Media
AAP Megaform
Allandale Park Thoroughbreds
Amarina Farm
Aquagait Equine Centre
Arrowfield Stud
Aushorse Marketing
Berkeley Park Stud
Bhima
BOBS (Racing NSW)
Bombora Downs
Bowness Stud
Briarwood Farm
Bullarook Park
Burwood Stud
Cangon Stud Farm
Carrington Park Stud
Clear Mountain Fairview
Cornerstone Stud
Corumbene Stud
Fitton HorseInsure
Glen Eden Thoroughbred Agistment
Grandview Stud
Hollylodge Thoroughbreds
HorsePower
HQ Insurance Pty Ltd
Inglis
International Animal Health Products
Ironmere Broodmare Farm
IRT
Kelato Animal Health
Kensington Produce
Kentucky Equine Research
Killahy Equine
Laurel Oak Bloodstock P/L
Lucas Bloodstock
Magic Millions
Magic Millions Insurance Brokers Pty Ltd
McDowells Herbal Treatments
Milburn Creek
Mill Park Stud
Millford Thoroughbreds
MiStable
New Zealand Bloodstock
Orphan Foal/Foster Mare Service
Pepper Tree Farm
Phoenix Broodmare Farm
Randwick Bloodstock Agency
RB Horse Transport
SABOIS
Scone Race Club
Sefton Park Thoroughbreds
Sledmere Stud
Spendthrift Farm Australia
STERILINE RACING
Steve Hart Photographics
Stonehouse Thoroughbreds
SUREWiSE
Swettenham Stud
TasBreeders
Timor Creek Stud Agistment
The Grange at Woodville
Toolooganvale Broodmare Farm
Tyreel Stud
Victoria Racing Club
Vinery Stud
VOBIS
Washpool Lodge
Woodleigh Estate
Widden Stud